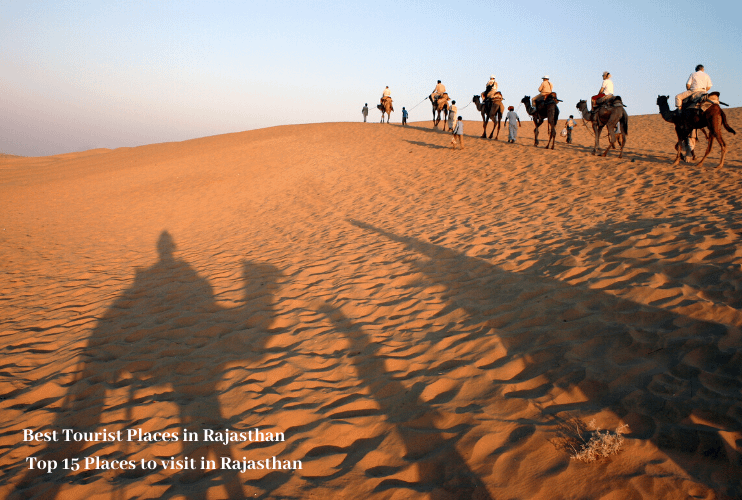 Best Tourist Places in Rajasthan
Best Tourist Places in Rajasthan | Top 15 Places to visit in Rajasthan
Best Tourist places in Rajasthan: Rajasthan has been one of the most popular and favorite tourist destinations for the tourists, whether it may be national or international. The main reason of this attraction is its art, palaces, hilly forts, culture, festivals & architecture. The slogan of "Padharo Mahare Desh" has been so successful in making Rajasthan as part of the "Golden Triangle" of India.
In Rajasthan there is lot of Best Tourist places in Rajasthan, some visiting places are most successful in attracting visitors to these cities like – Jodhpur, Jaisalmer, Udaipur, Bikaner and Jaipur. In 2018, more than 5 crore tourists visited Rajasthan where in 2017 this number was only 18 Lakhs.
The growth rate is about more than 20% in the tourism of Rajasthan. Tourism is responsible for 8% total GDP in Rajasthan. In this post, we will view some of the Best Tourist places in Rajasthan from different cities which we discussed already, without which your tour of Rajasthan is incomplete.
Amer Fort Jaipur is best places to visit in Jaipur
The name Amer is a distorted form of "Ambika" or "Amba", which is used for Mother Goddess Durga. This palace is situated on the hill and constructed with the help of red sandstone and marble. There are total 6 courtyards in the Amer Fort. This is one of top tourist place in Rajasthan.
On the buildings of this fort, you can see that the whole architecture is highly affected with the Mughal architecture style. The Amer fort is situated in the area of 4 square kilometers. In the old time, tourist reached this fort by having rides on elephants but now it is reachable via jeeps as well. There are following items viewable in Amer Fort makes best places to visit in rajasthan. Like
Diwan-e-Aam,
Jai Mandir,
Sukh Niwas,
Diwan-e-Khas and
Sheesh Mahal
Mehrangarh Fort, is Best
places to visit in jodhpur
This beautiful fort of Jodhpur was constructed by Rao Jodha in fifteenth century. This fort is protected and surrounded by many thick walls. The height of this fort is about 125 meter. Mehrangarh Fort is the abode of many beautiful palaces, which are well-known for their beautiful carvings and courtyards. In Jodhpur there is lot of best tourist places in Rajasthan.
There are seven entrance gates of Mehrangarh fort like – Jayapol, Fattehpol, Chandpol etc. Besides this, one of the main attraction centre is the chhatri of Kirat Singh Soda and Mehrangarh Fort Museum. The museum is one of the well-stocked museums of Rajasthan. It holds heritage of Rathore kings in the form of their costumes, paintings, and pallanquins.
Jaisalmer Fort, is best
places to visit in jaisalmer
Jaisalmer Fort is the second oldest fort of Rajasthan. It was constructed by Rao Jaisal, a rajput ruler, in 12th century. The name of Jaisalmer is also derived from his name. Jaisalmer Fort is constructed with the yellow sandstone. That is why, the Jaisalmer Fort is also known as the "Golden Fort of Rajasthan".
This fort has also been included in the UNESCO list of world heritage sites. Jaisalmer Fort is not only a tourist attraction point, but it is also the abode of lakes, temples and houses of inhabitants in Jaisalmer. It can be considered as the living forts of the whole world.
Pushkar Lake best places to see in Ajmer
This popular lake is situated in Pushkar town in Ajmer District. This lake is overall separated with the Ajmer city by the Nag Mountains. Pushkar Lake is a very sacred lake in Hinduism and Pushkar is known as the preceptor of all Tirthas (pilgrimages). The origin of this city and lake is considered originated in about 4th-5th century. This is one of best tourist place in Rajasthan.
Around the lake, there are 52 bathing ghats. The fair is held near Pushkar Lake in the month of October-November. There are more than 500 Temples situated around the lake. If you deep dive, this Pushkar Lake can easily wash off all the sins of this and previous births. It is also the home of the many fish species.
Pushkar is one of Ajmer famous places , some popular temples are also there like – Brahma Temple, Shri Rangji Temple etc. There are many mass awareness programs operated by the Government for conversion measurements.
Delwara Temple, places to visit in Mount Abu –
Delwara Jain Temples are situated in between the 11th -12th century AD. They are beautifully renowned for their construction from marble stone carvings. The legend is that during his pilgrimage, Mahaveer visited this place as the 24th tirthankara of Jains. This is one of best tourist place in Rajasthan.
The overall architecture of these temples is so simple which reflect the true values of Jainism like – Ahimsa, Transparency and Honesty. These groups of temples are related to different tirthankaras of Jains like – Rishaba Deva, Mahaveer Swami, Sri Adinath, Vimal Vasahi and Luna Vasahi etc.  This make Mount Abu places to visit in rajasthan
Karni Mata Temple Bikaner famous places
Karni Mata Temple is situated at the distance of 30km from Bikaner in Deshnok town which is Rajasthan famous places. It is a situated temple near in 14-15th century and made by Contemporary King Ganga Singh. It is made from the marbles and stones. This is one of best tourist place in Rajasthan.
One more attractive point is about this temple is that it is the abode of worshipping rats as well. There are about 20-25000 rats of black, white rats, to which feeding is known as the bringer of
good fortune. Here killing of rats is considered as the biggest sin. These rats are also known as "Kabas" or children of Karni Mata. This is must visit places in Rajasthan
The food left by rats is divided to the devotees as Prasad. Here in the temple people offer sweets, milk and milk products. Here kaishanta sanskar (hair cutting ritual) of a child is also performed.
Mount Abu Famous Places
Mount Abu is the region full of lakes, waterfalls, mountains, and green forests. British Government promoted this place as the summer capital of Rajasthan. Here Guru Shikhar, Sunset Point, Nakki Lake, and Mount Abu Wildlife Sanctuary are the wonderful visitor places to see. This is one of best tourist place in Rajasthan.
Mount Abu can be said the region of bio diversity. Here you would find animal species like – bear, wolf, hyena, boar and wild mongoose etc. One can enjoy the complete beauty of the Mother Nature. Here mountains are perfect for trekking and climbing for getting fitness.
Many caves are present here to enjoy the peaceful environment. Best time to visit mount Abu is in summer (from May to October). There are many places here for camping. It is good for the patients of anemia deceased individuals.
Shrinath Temple, Nathdwara –  
This temple is also known as "Nandalaya", "Nathdwara Shiva Statue" and "Shrinathji Haveli". This idol is purely made of black marble and is holding one hand on his waist and the other carrying a hill. Here peacocks, lions, cows and parrot are shown with the idol. This temple is divided into many sections.
The idol is considered as living entity. In this temple, many devotees come on Holi, Diwali and Janmashtami. This is one of best tourist place in Rajasthan, for Nathdwara Mandir Shrinathji temple is situated on the bank of Banas River in Nathwara region of Rajasthan.
It is considered one of the most richest Vaishnav temples of India. The idol of the Krishna was brought here to protect it from King Aurangzeb in seventeeth century. The temple itself was made by the Goswami priests in seventeeth century.
Eklingji Temple, best place to visit in Udaipur
It is a temple situated in Udaipur District of Rajasthan. Eklingji is considered as the ruling deity of the Mewar region. It was built in 8th century by Bappa Rawal. This temple was destructed by Delhi rulers and in 15th century, Rana Kumbha rebuilt the temple. This is one of best tourist place in Rajasthan
This Shiva Temple is belonged to Pashupati sect in past and now is in the custody of Nathpanthi sect. It is known for the beautiful idol of four faced idol of Lord Shiva. It is garlanded by the  snake made of silver which is the main tourist attraction. The roof of the temple is pyramid shaped with carved tower. These are udaipur famous places to visit
Lake Palace is Best
udaipur tourist place
Lake Palace is situated in Pichola Lake on an island named Jag Niwas. It was built by the Maharana Jagat Singh II in around 1750s. It was also known as a summer palace of Udaipur by the royal family of Udaipur. This beautiful white palace was converted into luxury five star hotel in the year 1960.
This single Lake Palace is the abode of many small palaces, which are holding the beautiful paintings, lotus leaves of stones and eminent glass work. In this palace, you would find many of the restaurants where visitors can enjoy the flamenco performances, and many national and international cuisines.
Chittorgarh Fort, Chittorgarh –
This fort is also a living fort of Rajasthan and is also included in the UNESCO orld heritage sites like the Jaisalmer Fort. It was first built by Chitrangad Mori of the Maurya dynasty in seventh century and it was the caital of Bappa Rawal.It consists many palaces, houses, towers, lakes and gates.
Chittorgarh Fort is the abode of the legends of the Johar done by the queens like Padmini and eternal wars between Ratan Singh and Alauddin Khilji. There are two main towers like – "Kirti Stambh" and "Vijay Stambh" which are the two centers of attraction for visitors.
Kishore Sagar and Jagmandir Palace, Kota –
Kishore Sagar is an artificial lake which was constructed by the contemporary Prince Dehra Deh in 14th century. It is situated aside of Brij Vilas Palace Museum. Jagmandir Palace is made up of Red sandstone whose reflections in the Kishore Sagar Lake looks fantasatic.
Jag Mandir is situated at the centre part of the Brij Vilas Palace Museum. This is a fantastic place for photo lovers, historians and nature fanatics. In the artificial lake, the water is used for the irrigation purposes an it is also the tourism center of attraction of Kota Visitors.
Taragarh fort Bundi also known as Bundi fort
Taragarh Fort is also known as Star Fort which is situated om Nag Mountains of Aravali region. It was built in the year 1354. There are 3 gateways made to enter in this fort including tunnels and ramparts. This is one of best tourist place in Rajasthan   
There are many places which are the centre of attraction for many tourists. One palace is Rani Palace which was constructed for the multiple wives of the contemporary kings. This fort is situated on the top of hill where the beautiful view of Bundi city can be seen.
There are three gateways to the fort known as Lakshmi Pol, Phuta Darwaza, and Gagudi ki Phatak. This fort looks more beautiful when the light reflects on it while setting the sun. which make best places to visit in Rajasthan
Keoladeo National Park, Bharatpur –
This is also known as Bharatpur Bird Sanctuary. This place alone has given Bharatpur a place in the attractive list of visiting places of Rajasthan. This sanctuary is particularly suitable for tourists in the month of winter starting of october-november. This is one of best tourist place in Rajasthan.
This sanctuary is the place for many international migratory birds like the Siberian cranes. There are many homestays and accommodation facilities provided to the visitos for exploring the whole place. This sancuary is also famous for the special grass of faura  and fauna.
Ranthambore Fort Best tourist places in Rajasthan –
This fort was built during the time of nineth century. It was under the reign of Chauhans until the thirteen century. Ranthambore fort is also famous for having the three temples of Hindus and one temple of Jains. This is one of best tourist place in Rajasthan.
The three temples belong to Lord Shiva, Ganesha and Ram. The remaining Jain temple belongs to the Sambhavnathji whowas the 5th tirthankara of the Jains. Besides these spots, another centre of attractions are –
Padam Lake
Jogi Mahal
Rajbagh Ruins
Ranthambore school of art
Conclusion –
Although Rajasthan has been so successful in attracting visitors and provided a significant contribution in the travel & tourism industry. Government is also trying upto itslimits to provide more and more information to the tourists pertaining Rajasthan destinations. Rajasthan Tourism website is state government's official portal for providing information on tourist destinations in Rajasthan. So must visit best tourist places in Rajasthan once.
Tags